What is LAF?
Living the life of Love, Appreciation, and Forgiveness (LAF) is a way of living your higher-self and gives you a life of inner peace. You organically default to surrender to everything in the present moment.  You would be like an extension of everything that includes all of Mother Earth, every human being, and the entire universe.  You won't know how to hate anymore. It will feel like a foreign language; you know it exists, but you don't understand it.I have to, knowing that everything happens for a reason. If somebody does something to hurt me, I forgive them because I know they're unconscious. I love and appreciate them because they are an extension of me, and I witness them learning their lessons in life. I can only love now. To get to this point, you need to understand and feel how to Love, Appreciate, and Forgive properly and also understanding the many egos and how they work. We come to apply these simple tools in our everyday life that have profoundly opened our eyes to see the truth of being. Please enjoy your time here looking into what we both do.
Sending everyone unconditional love,
James & Sharon
James John
"I live life, I don't let it live me."  From deep depression, I was rewired from pure hatred to loving all things unconditionally. This is were I talk about the Ego/dark energy that is the "self made mind" that drives us to do the most unbelievable acts to ourselves, others and Mother Earth. I talk about how to Love, Appreciate and Forgive ourselves first and others as well as talking about all things spiritual and how it mixes in with our daily lives.
Sharon Sillen
My name is Sharon Sillen and my personal journey has always included supporting others who wish to grow in many different capacities.  The joy of studying metaphysics and helping others has lead me down many paths throughout the years including: Reiki Master, Integrated Energy Therapy, Life Coach, Hospice Volunteer, Reverend, hosting Meditation Groups and Retreat Organizer.  It is my hope that through my work, I assist in anchoring more love into the world and into the hearts of others.
FREE UP AND COMING EVENT!!!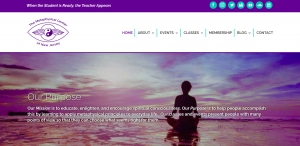 https://www.metaphysicalcenterofnewjersey.org/
Dear Friends and Followers,
As many of you know I have been a supporter of the Metaphysical Center of New Jersey for many years. I am so pleased to have been invited to speak as part of a new premier online program MCNJ is launching called Journeys.
This series of classes is exceptional for the depth and breadth of content that is being offered. I invite you to join this FREE summit which will give you powerful tools and information on topics such as how to:
• Erase ancestral and past life trauma
• Communicate with animals and understand the Human-Animal bond
• Use dowsing to get answers to questions and clear unwanted energy
• Activate clairvoyant and psychic abilities
• Balance the rhythms of life with Ayurveda
You will be delighted with the lineup of Wisdom Teachers in these classes! The summit consists of videos with 18 masterful spiritual teachers, including myself, who will share their knowledge and useful practices during these in-depth 30-60-minute programs. The wisdom being shared in this series will help you expand your intuitive abilities, deepen your relationships, and illuminate your journey of spiritual transformation.
If you are ready to join the summit and gain the wisdom to raise your frequency and connect more deeply, click below for a complimentary ticket.
SIGN UP TO GET ACCESS: www.metaphysicalcenter.org/journeys
We will send you an email with a link to the first video being shown on August 18th.
I hope to see you on this Journey!
Big Hugs and Blessings!
James John
P.S. Who do you know that would benefit from this knowledge? Would you do me a favour?  Forward this website to someone you care about and post on social media; it could make their day and change their life!
NEXT EVENT
Empowered Light Holistic Expo – "NEW DATE COMING"
Sharon and James will be giving out hugs as well as be speaking at the event.
Sharon-
Meditate into your Higher Self ~ Come relax and immerse yourself into positive vibrations as we take a journey together of healing and wellness.  The stresses and chatter of todays world can sometimes seem overwhelming.  Give your body the permission and space it needs to rejuvenate and reconnect to your higher self.  My 30 minute guided meditation will be followed by a brief story about how I overcame anxiety through daily meditation… followed by Q & A.
James John-
Now super connected, James invites you to ask any questions as he channels and answers all your hardest questions about the Ego/dark energy so you can live a more joy filled life. From a very deep depression, James John was rewired within a moment from pure hatred to loving all things unconditionally.
Be Part of the Change!
Next Event: May 1-3, 2020
Empowered Light Holistic Expo
Greater Philadelphia Expo Center, Oaks PA